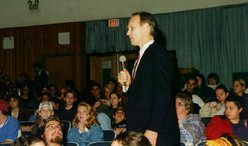 COSPONSOR IDEAS
Suggested talking points follow below.

If you print out and mail (or email) info to a potential cosponsor, please include our web page www.tobaccofree.org/infopack.

Also, please give cosponsors our phone number, (310) 577-9828.

Thanks for your support!
YOUR DEPARTMENT OF PUBLIC HEALTH
Following the recent Master Settlement of the lawsuits against the tobacco industry, several States have allocated a portion of their funds for tobacco education.
Call your County Public Health Department, and ask for the Tobacco Prevention and Control Officer. Be sure to use our talking points, below.
Immediate funding may be available from County Health Departments. If not, call the Department of Public Health in your State capitol, and ask how you may apply for a grant. Live speakers may be an excellent idea for grant proposals to your Health Department.
Enlisting the support of an experienced grant proposal writer is very helpful, perhaps necessary. Your local branch of the American Cancer Society may be able to co-apply with you, or at least advise you.
You can also obtain booklets on how to write grant proposals from the Center for Non Profit Management in Los Angeles, tel (213)623-7080, or the Foundation Center in New York City, (212) 620-4230.
LOCAL HOSPITAL COMMUNITY RELATIONS DIRECTORS
It's easy to approach a local hospital for immediate sponsorship. You'll find them listed in most yellow pages under Hospitals or ealth Maintenance Organizations.
Ask for the Director of Community Relations, or the Marketing Director. Say you have a speaker who will attract excellent local news coverage, and that this event will build excellent goodwill for their hospital. That's the job of these executives -- to build a bridge to the local community, often by sponsoring such events.
During calls to potential cosponsors, it will help to use the talking points at the bottom of this page.
YOUR LOCAL COALITION FIGHTING TOBACCO
Here's another frequent cosponsor. Ask your local branch of the American Cancer Society or American Lung Association for the name and phone number of your local coalition fighting tobacco. There are hundreds of them all over the nation. Local coalitions have often pitched in to cosponsor Mr. Reynolds' live appearances.

COLLEGES AND UNIVERSITIES
Try calling a local college for cosponsorship; often they have a budget for bringing in outside speakers. Ask for the Student Activities Director and also the student in charge of choosing guest speakers. See our Five Minute Plan to Initiate a College Lecture (www.tobaccofree.org/collorg.htm).
GLAXO WELLCOME, MAKERS of ZYBAN
Glaxo Wellcome has been another past co-sponsor of Mr. Reynolds' live presentations. They are the makers of the new smoking cessation medication, Zyban, which utilizes an antidepressant and has the appeal of containing no nicotine. Zyban is available by prescription.
Glaxo's local reps have discretionary authority to sponsor local tobacco education speakers. It's possible that the rep has already committed their budget for this year, but if not, they are a good prospect for sponsorship. Please let us know how you fare with Glaxo's rep. Here's what to do:
Call Glaxo Wellcome Pharmaceuticals at 1-800-722-9292; immediately dial 1, and then 1 again, to get an operator on the phone.


Ask for the phone number of the local rep for Zyban in your area. They will ask for your name, number and inquire whether you are a doctor. After they note your information, they will give you the name of the Zyban rep for your city, an 800 number to access the rep's voicemail, and the 5 digit number for their voice mailbox.


Leave a message for your local Zyban rep, telling them about Mr. Reynolds, requesting sponsorship. Use the talking points at below.
It's possible the rep would prefer a proposal in writing. Here's an easy way to do that: print out our complete information package from our webpage www.tobaccofree.org/infopack.htm. It's also a good idea to send the rep our basic cover letter to cosponsors; print it out from our webpage, www.tobaccofree.org/covrlets.htm. We think Glaxo Wellcome is a good opportunity for co-sponsorship.
LOCAL CORPORATIONS
Ask the executive director of your local branch of the American Cancer Society or American Lung Association for the name of a local business leader who feels strongly about smoking. This would be a good person to approach for cosponsorship. Large corporations' public relations directors will also sometimes contribute to Mr. Reynolds' speaking tours. Ask for the Director of Public Relations or, at smaller companies, the President. Suggest they visit our webpage, or fax info to them. Use the talking points below.
Talking points
Let your enthusiasm show!
Say you have an excellent speaker you'd like to bring in to the community to speak in middle and high schools.


Tell them it's Patrick Reynolds, the grandson of tobacco company founder R.J. Reynolds, who turned his back on the family tobacco business after losing his father to smoking.


Mention that his talk receives very positive local media coverage. This will build community goodwill, and bring the message to the wider community.


Give them our phone number, (310) 577-9828, and the web page, www.tobaccofree.org/infopack. Suggest they may wish to print out the information there.


The cost for live presentations is $3,000 per day, plus travel expenses from Los Angeles. This covers either two middle or high school assemblies, or one college / community lecture. Additional talks to middle or high schools may be added for $1,500 per talk. These rates are for schools and non-profits only. Pending availability, Mr. Reynolds can go on tour for several days.


If time permits, read them a quote from our page, What past clients say.


Ask if they would like for you to send an email to them about your idea. If so, jot down their email and send them this link, or just leave it on their answering machine -- www.tobaccofree.org/infopack. If you need a cover letter for the email, just copy the top of our www.tobaccofree.org/infopack9.html page; it has a good letter to paste into your email. Add a personal note at the top, suggesting that they circulate your email to other health departments or staff.


Remember to leave our phone number, (310) 577-9828.
---